Jack Wilshere yang baru sahaja dinobatkan sebagai pemain terbaik tahunan Arsenal telah mengeluarkan kenyataan yang beliau mahu melihat kapten pasukan Arsenal, Cesc Fabregas kekal dan Wilshere turut memberitahu yang Fabregas merupakan kapten yang bagus dan seorang kawan yang baik..
"People say Cesc doesn't look like a captain, but he's been great for me this season.. I hear people say he's not a good leader, but I think he's a good leader.. On the pitch he is always helping me.. Off the pitch he has become a good friend.. He's been over in England eight years, but Barcelona is his home.. It's hard for him so I can understand where he's coming from.."
"But he's the Arsenal captain and he's been great this season and we hope he can be great next season.. In some of our games he has been our best player by a mile, and we need to keep our best players if we want to win things.. He likes Arsenal, and I'm sure he wants to be at Arsenal.. If they can reach an agreement then I'm sure he'll want to stay.. He needs to stay.."
Sementara itu Arsene Wenger telah memberitahu yang setakat ini tiada sebarang tawaran yang dilakukan Barcelona terhadap Cesc Fabregas.. "There was an interest from Barcelona last year which I won't hide.. This year there hasn't been an interest.. My No 1 wish is to keep Fabregas - for me he is the best midfielder in the world and we naturally built the team around him.."
Apa yang pasti jika Barca membuat tawaran terlalu lewat kepada Arsenal, Wenger semestinya tidak akan membenarkan Fabregas pergi kerana beliau tidak mempunyai banyak masa untuk mencari pengganti Fabregas dan buat masa ini khabar angin mana-mana pasukan membuat tawaran kepada Fabregas cukup perlahan dan harapnya ini satu berita yang baik..
Buat masa ini Arsene Wenger mempunyai masalah yang lebih besar lagi iaitu mengekalkan Samir Nasri selepas Wenger mengakui terdapat sedikit masalah dalam perbincangan kontrak Nasri namun Wenger menegaskan yang beliau akan membuatkan Nasri menandatangani kontrak tersebut dan turut menegaskan yang beliau sama sekali tidak akan membenarkan Nasri berhijrah ke Manchester United..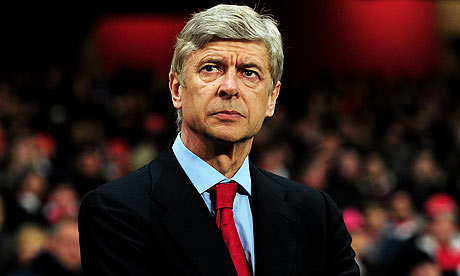 Sementara itu Arsene Wenger mengakui yang beliau mahu mencari pemain pertahanan seperti Tony Adams dan Martin Keown untuk mengatasi krisis di bahagian pertahanan yang sudah lama terjadi.. Wenger dilaporkan turut mencari pemain penyerang dan pemain defensive midfielder dan Wenger turut dilaporkan akan ke Amerika Selatan untuk menyaksikan pemain di sana..
Harap-harapnya adalah banyak berita baik semasa perpindahan musim panas ini.. Namun Wenger turut perlu mengatasi masalah di dalam kem Arsenal seperti masalah kontrak pemain, pemain yang perlu dijual dan juga pemain yang perlu dikekalkan seperti Nicklas Bendtner yang ayahnya mahu Bendtner meninggalkan Arsenal walaupun Wenger jelas mahu mengekalkan Bendtner..
Wenger perlu mengekalkan Bendtner di dalam pasukan kerana Bendtner ada ciri-ciri untuk menjadi seorang penyerang yang digeruni.. Namun Bendtner perlukan aksi kesebelasan utama yang lebih kerap lagi sebelum sesuai untuk menjadi penyerang utama Arsenal.. Wenger mungkin perlu menimbangkan membenarkan Bendtner meninggalkan Arsenal secara pinjaman semusim ke kelab EPL yang lain untuk aksi kesebelasan utama..
Agak sayang untuk melihat Bendtner meninggalkan pasukan selepas jelas sekali selepas Robin Van Persie hanya Nicklas Bendtner sahaja yang betul-betul boleh diharap.. Marouane Chamakh memang cemerlang pada awal musim yang lalu namun selepas itu kita sendiri boleh lihat bagaimana prestasi Chamakh walaupun Atikah mengakui Chamakh lebih banyak kepada kebolehan mengawal bola dan hantaran bola tinggi.. Sementara tendangan Chamakh pulak?? Well Atikah pasti anda semua tahu apa jawapannya..
Namun sememangnya Wenger mungkin patut mencari seorang lagi penyerang yang cukup prolifik untuk di bawa masuk.. Seorang penyerang yang betul-betul boleh diharap untuk menjadi back up Van Persie yang hampir setiap musim dihantui masalah kecederaan.. Dan Wenger juga mungkin perlu memikirkan kemungkinan meletakkan dua penyerang berbanding satu penyerang.. Adios!!