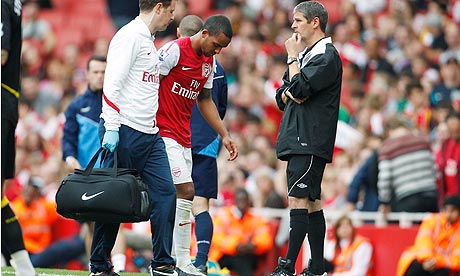 Theo Walcott yang tumbang pada mini-minit akhir perlawanan semasa kemenangan 4-0 Arsenal ke atas Bolton akibat kecederaan lutut walaupun pada mulanya ramai yang menjangkakan ianya hamstring disahkan Arsene Wenger yang TW14 tidak cergas sepenuhnya untuk perlawanan menentang Olympiakos awal pagi nanti.. Dengan Wenger menjangkakan Theo mungkin akan cergas untuk perlawanan derby menentang Tottenham Hotspurs..
Namun berita kecederaan yang menimpa Laurent Koscielny pastinya lebih memeningkan Wenger berbanding yang lain.. Dengan Sebastien Squillaci masih belum pulih sepenuhnya dan hanya akan kembali hari Jumaat atau Sabtu, sementara Johan Djourou hanya akan kembali minggu depan dan Thomas Vermaelen yang hanya akan kembali bulan depan, menyaksikan Wenger berkemungkinan besar bakal mengandingkan Per Mertesacker dengan pemain muda, Ignasi Miquel selepas Koscielny mengalami kecederaan buku lali akibat terjahan Nigel Reo Coker..
Gervinho turut mengalami masalah kecederaan otot disahkan tidak akan beraksi pada perlawanan menentang Olympiakos dan bersama-sama Koscielny, mereka berdua ada 50-50 chance untuk cergas semasa perlawanan derby menentang Tottenham.. Ini pastinya bakal menyaksikan Andrei Arshavin dan Tomas Rosicky ataupun Alex Oxlade-Chamberlain akan mengisi posisi sayap kanan dan kiri awal pagi nanti..
Jack Wilshere telah disahkan Arsenal FC yang Wilshere telah menjalani pembedahan di buku lali kanannya oleh dua pakar dunia yang berjalan dengan lancar.. Ini menyaksikan Wilshere bakal berehat selama 4 ke 5 bulan sebelum kembali menyarung jersi Arsenal semula.. Ini membawa maksud Wilshere hanya akan kembali tahun depan..
Sementara itu Arsene Wenger mahu menghentikan isu tentang kontrak lanjutan Robin Van Persie.. RVP dilaporkan tidak mahu menandatangani kontrak lanjutan lagi kerana mahu melihat terlebih dahulu situasi kelab.. Namun Wenger menegaskan yang 2 tahun merupakan satu tempoh yang cukup lama.. Jadi Gooners semua.. Jangan risau tentang Man City nak bid Van Persie 30 juta pound.. Mereka tu semuanya nak beli.. Just keep faith on our skipper..
Kejayaan Arsenal Ladies meraih kejuaraan treble mereka sejak 2009 telah menyaksikan Robin Van Persie, Johan Djourou dan Aaron Ramsey mengucapkan tahniah kepada pasukan Arsenal Ladies.. Harap-harapnya ini akan membakar semangat skuad lelaki Arsenal.. Berikut ialah tweet daripada RVP, 'Congratulations
Arsenal Ladies for Continental win on sunday! Ladies have won the treble this season. Amazing achievement.', Djourou, 'Congratulations Arsenal Ladies for Continental Cup final win on Sunday. They've now won the treble this season now - amazing achievement!' dan Aaron Ramsey 'Well done Arsenal Ladies for winning continental cup on sunday, especially fellow wales skipper jayne ludlow who scored a great header!'..