Skuad Arsenal telah diberikan khabar buruk sebelum aksi menentang Birmingham City awal pagi Isnin ini untuk perlawanan akhir Piala Carling di Wembley selepas kapten pasukan, Cesc Fabregas disahkan Arsene Wenger yang beliau akan terlepas peluang untuk mengetuai Arsenal pada perlawanan tersebut dan menjulang Piala Carling yang akan menjadi Piala kompetitif pertama dimenanginya sebagai kapten Arsenal..
Cesc Fabregas telah tweet ini selepas terpaksa dibawa keluar akibat kecederaan hamstring yang di alaminya sewaktu menentang Stoke City, '
I dont know if ill make sunday or no, but all i know is that from this moment to sunday 16'30 i wont sleep if its necessary. Ive waited...
...Too long to captain a final for arsenal and i wont give up till the last second.'

Namun mengikut satu sumber terdekat Arsenal, Fabregas mahu memujuk Wenger untuk membenarkan beliau beraksi pada perlawanan tersebut selepas scan menunjukkan kecederaan hamstringnya tidaklah teruk.. Ianya adalah disebabkan beliau terlalu terdesak untuk mengetuai Arsenal pada final pertamanya sebagai kapten..

Walaupun Atikah sendiri mengakui Wenger mungkin tidak perlu merisikokan Fabregas memandangkan kita ada perlawanan menentang Barca pada 8 Mac ini, tetapi sejujurnya Atikah percaya kesemua fans Arsenal mahukan Fabregas mengetuai Arsenal pada perlawanan akhir di Wembley awal pagi Isnin ini kerana beliau adalah kapten Arsenal dan beliau berhak untuk mengetuai Arsenal pada perlawanan tersebut..

Namun walau apa-apa pun marilah kita sama-sama berdoa yang Fabregas berjaya pulih sepenuhnya dari kecederaan hamstring tersebut kerana masih ada masa lagi untuk beliau.. Never ever give up Fabregas!! We all behind you and support you!! There still some time!! Like you sister said '
NEVER GIVE UP! SUCCESS IS NEVER ACCIDENTAL!'


Cesc Fabregas berjuang untuk mengetuai Arsenal di Wembley awal pagi Isnin ini sementara Robin Van Persie hanya menunggu masa untuk mengambil alih arm band dari Fabregas pada perlawanan tersebut setelah Wenger mengesahkan Van Persie bersama-sama Laurent Koscielny dan Abou Diaby akan cergas sepenuhnya pada perlawanan tersebut..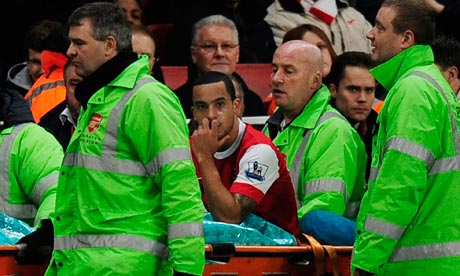 Namun Theo Walcott yang diusung keluar selepas diterjah keras pemain Stoke disahkan langsung tiada peluang untuknya beraksi di Final Piala Carling dan dalam keraguan untuk pulih sepenuhnya semasa perlawanan menentang Barcelona bulan depan selepas Wenger menjangkakan TW14 akan terkeluar selama 1 ke 2 minggu..
Walau apa-apa pun Atikah harapkan yang Arsenal akan memenangi Piala Carling ini untuk Cesc Fabregas dan Theo Walcott.. Kalau kita berjaya menundukkan Birmingham kita panggil Fabregas untuk masuk ke padang dan menjulang Piala tersebut.. Dia berhak untuk melakukannya kerana beliau adalah kapten Arsenal dan beliau telah banyak membantu Arsenal selama ini.. Adios!!