Minta maaf sebab lebih kurang seminggu Atikah x update.. Ianya disebabkan Atikah balik kampung dan x ada internet.. So anyway Wojciech Szczesny yang merupakan penjaga gol nombor satu Arsenal setelah Lukasz Fabianski terpaksa melupakan baki kempen musim ini setelah terpaksa menjalani pembedahan di bahunya walaupun Manuel Almunia telah kembali dari masalah kecederaannya telah membuat satu pengakuan..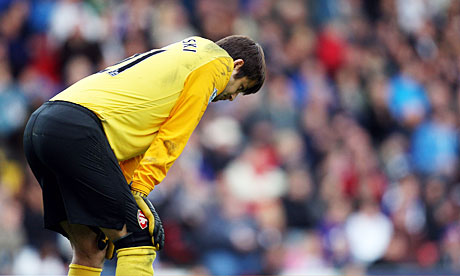 Misteri kecederaan Lukasz Fabianski yang akhirnya disahkan Arsene Wenger yang Fabianski terpaksa menjalani pembedahan di Jerman selepas menerima nasihat pakar akhirnya terjawab.. Szczesny merupakan orang yang bertanggungjawab mencederakan Fab21 ini.. Szczesny telah melakukan sepakan deras ke gawang Fabianski semasa latihan di mana semasa Fabianski cuba untuk menyelamatkan sepakan tersebut, beliau telah mencederakan dirinya..
Szczesny mengakui beliau sedikit sebanyak bertanggungjawab atas kecederaan Fabianski namun menegaskan perkara ini langsung tidak menjejaskan persahabatan di antara mereka berdua dan Fabianski turut tidak menyalahkan Szczesny atas kecederaannya itu.. Ini ialah pengakuan dari Szczesny..
"I indirectly [injured Lukasz Fabianski] but I didn't really injure me [because] he could have let the shot in.. But yes, I did take a shot on goal and he injured himself making the save to my shot.. So I'm a little bit responsible for it but I don't think he blames me for it.. [Competing with each other] feels weird if I'm honest because we are good friends, talk to each other but when it comes to football we have a very good competition, I don't feel sorry for him if I have to take his spot and he doesn't feel sorry for me if I'm on the bench.. It's weird but it doesn't affect our friendship.."
Hmm.. Szczesny oh Szczesny.. Ia pun nak jadi pilihan utama janganlah sampai cederakan si Fabianski yang menjadi salah seorang pemain paling meningkat Arsenal musim ini.. Haha.. Tapi apa-apa pun semoga Fabianski cepat sembuh dan harapnya Szczesny x buat benda ini lagi.. Kerana untuk berjaya setiap pasukan perlu ada dua penjaga gol berwibawa.. Tapi mungkin benda nak jadi, nak buat macam mana kan??
Namun walau apa-apa pun Atikah seronok tengok banyak persaingan secara sihat di dalam kem Arsenal.. Dengan perkara inilah baru boleh Arsenal bertambah bagus.. Sementara itu Robin Van Persie disahkan sebagai pemain terbaik Arsenal bulan Januari dengan menewaskan kapten pasukan, Cesc Fabregas dan pemenang sebelum ini, Samir Nasri..
Walaupun Nasri tewas di tangan Van Persie sebagai pemain terbaik Arsenal pada bulan Januari, Nasri telah berjaya memenangi anugerah PFA Fans Player of the month buat kali ketiga berturut-turut.. So tahniah Nasri.. Wenger telah memberitahu yang perbincangan untuk knotrak lanjutan Nasri hanya akan dibincangkan pada musim panas nanti..
Atikah menjangkakan tiada sebarang masalah untuk menyaksikan Nasri terus kekal di Arsenal selepas ejen Nasri memberitahu yang Nasri cukup gembira di Arsenal dan cukup kagum dengan atmosfhera di dalam pasukan Arsenal.. Ayah Nasri turut menegaskan yang Nasri gembira di Arsenal dan ini telah memberikan petunjuk yang Nasri akan menandatangani kontrak lanjutan pada musim panas nanti..
Laurent Koscielny yang telah menampilkan aksi yang cukup memberangsangkan sejak akhir-akhir ini sehingga beberapa peminat mula mengatakan yang Koscielny mungkin Tony Adams yang baru telah menerima panggilan pertamanya untuk skuad kebangsaan Perancis yang diuruskan Laurent Blanc.. So tahniah Koscielny!!
Sementara itu sedikit berita kecederaan.. Alex Song disahkan akan terlepas perlawanan menentang Newcastle United malam ini namun Theo Walcott disahkan bersedia untuk aksi menentang Newcastle.. Namun Samir Nasri akan terus disisihkan selama 3 minggu namun ianya dijangka Arsenal tidak akan mengalami masalah kehilangan khidmatnya jika Andrei Arshavin beraksi seperti mana beliau beraksi sewaktu menentang Everton tempoh hari.. Sementara itu Thomas Vermaelen akan kembali semula ke dalam pasukan dalam tempoh 3 ke 4 minggu lagi.. Adios..