Cesc Fabregas telah disahkan Arsene Wenger yang Fabregas akan kembali memakai armbandnya pada perlawanan menentang Blackpool pada hari ahad ini selepas disahkan cergas sepenuhnya untuk memulakan perlawanan walaupun mungkin akan ada sedikit keraguan sama ada Fabregas akan terus kembali ke prestasi terbaiknya selepas kerap kali bergelut dengan kecederaan hamstring pada musim ini yang menyaksikan Wenger teragak-agak untuk menurunkan Fabregas..
Aaron Ramsey juga berkemungkinan besar akan mengikut jejak langkah Fabregas selepas berjaya pulih daripada kecederaan groin yang di alaminya walaupun terdapat sedikit keraguan sama ada Wenger akan menurunkan Ramsey atau tidak.. Namun apa yang pasti Arsenal akan turun tanpa Alex Song yang sekali lagi mengalami masalah di bahagian lututnya namun dijangka sempat pulih pada perlawanan penting menentang Liverpool minggu depan..
Wnger juga tidak pasti sama ada dapat untuk menurunkan Theo Walcott ataupun tidak semasa menentang Blackpool hujung minggu ini selepas Wenger mengesahkan yang Walcott sekali lagi mengalami masalah dengan buku lalinya.. Hero Arsenal semasa menentang Blackpool tempoh hari ini akan menjalani ujian kecergasan lewat sebelum dapat dipastikan sama ada beliau akan turut serta atau tidak..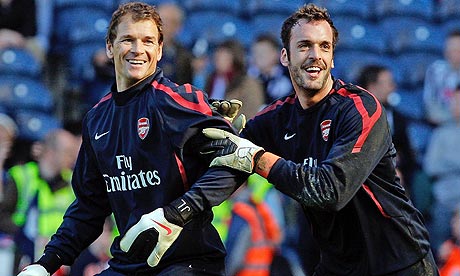 Namun berita paling buruk ialah Wenger telah mengesahkan yang Jens Lehmann sekali lagi di atasi oleh Manuel Almunia.. Ugh.. Bukannya Atikah tidak percaya dengan Almunia tapi dua game terakhirnya iaitu menentang West Bromwich Albion dan Blackburn Rovers cukup goyah.. Almunia masih cenderung untuk kerap kali melakukan kesilapan bodoh terutamanya gagal untuk menyelamatkan bola mudah..
Sementara itu Samir Nasri telah di calonkan sebagai PFA Player of The Year award.. Nasri yang di ura-urakan akan memenangi anugerah ini hasil daripada aksi memukaunya musim ini bakal menerima tentangan sengit daripada Charlie Adam, Gareth Bale, Scott Parker, Carlos Tevez, Rafael Van Der Vaart dan Nemanja Vidic.. Nasri turut dicalonkan untuk anugerah PFA Young Player of The Year..
Jack Wilshere yang dilaporkan akan menjadi ayah nanti turut dicalonkan untuk anugerah PFA Young Player of The Year yang dilaporkan Gareth Bale menjadi pilihan untuk memenangi anugerah ini namun dengan Wilshere semakin lama semakin menunjuk taringnya dijangka berpeluang untuk mengatasi cabaran dari Seamus Coleman, Joe Hart, Javier Hernandez dan Nani..
Sementara itu esok skuad Arsenal Ladies akan beraksi di UEFA Women's Champions League semi final first leg di Perancis menentang Olympique Lyonais.. So good luck Ladies!! Sayangnya tiada live untuk perlawanan ini memandangkan perlawanan EPL disiarkan mengatasi perlawanan UEFA Women's Champions League.. Adios!!