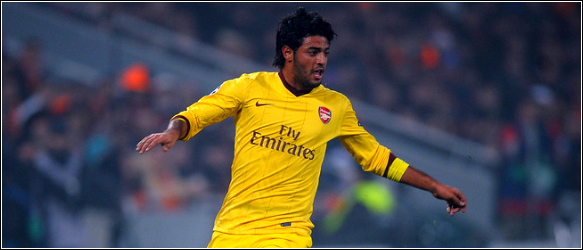 Bolton Wonderers telah membuat permohonan rasmi untuk membawa Carlos Vela ke Bolton secara pinjaman.. Bolton akan bersaing dengan beberapa kelab Sepanyol untuk mendapatkan khidmat Vela walaupun Valencia dan Espanyol lebih berminat untuk membeli Vela, namun sudah semestinya sebarang peluang untuk melihat Vela dijual adalah tiada langsung..
Dengan Bolton dilaporkan merupakan satu-satunya pasukan EPL yang berminat, mereka berpeluang untuk mendapatkan khidmat Vela selepas ejen Vela menegaskan yang tiada peluang langsung untuk melihat Vela akan dipinjamkan ke Sepanyol.. Namun mungkin Wenger akan berat membenarkan Vela ke Bolton memandangkan Vela mungkin tidak akan beraksi sekerap mungkin dengan Elmander dan Davies berada di tahap terbaik mereka..
Namun dengan hakikat hubungan di antara Arsenal dan Bolton dan juga Arsene Wenger dan Owen Coyle cukup baik, perpindahan secara pinjaman ke Bolton berkemungkinan besar akan terjadi.. Namun walau bagaimana pun kita tunggu dan lihat sahajalah dan harapkan yang terbaik untuk Carlos Vela..
Seorang lagi penyerang yang Wenger sedia lepaskan secara pinjaman, Jay Emmanuel-Thomas dilaporkan telah mendapat perhatian daripada Blackburn Rovers yang berminat untuk membawa Jay ke Ewood Park.. Namun ianya masih rumors namun Atikah mengalu-alukan JET ke Blackburn so JET akan ada pengalaman berguna di EPL sebelum mula menjadi perancangan tetap Wenger di setiap perlawanan..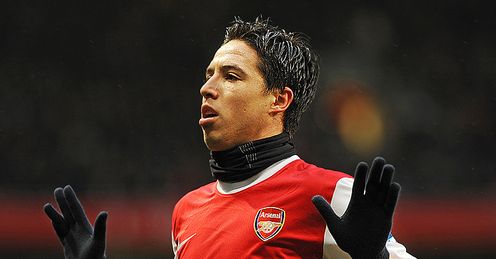 Samir Nasri yang telah menarik perhatian Pep Guardiola dijangka akan melenyapkan spekulasi masa depannya dengan semakin hampir menandatangani kontrak baru bersama Arsenal tidak lama lagi selepas ayah Nasri mengakui Nasri akan kekal di Arsenal tanpa sebarang keraguan lagi.. Berikut ialah kenyataan ayah Nasri..
"He is only 23 years old and still has much room for improvement.. I am convinced that he can go even higher. I think that yes, this will be with Arsenal.. It is a club that is close to his heart, that knew how to bring him to the level where he is.. I think that Arsenal remains his priority.." Atikah juga menjangkakan tiada masalah untuk melihat Nasri kekal di Arsenal untuk jangka masa panjang..
Nasri dijangkakan akan ditawarkan kontrak jangka masa panjang yang akan menyaksikan beliau menerima gaji berjumlah 75 ribu pound seminggu dan akan sebaris bersama-sama Robin Van Persie, Cesc Fabregas dan Andrei Arshavin yang menerima gaji tertinggi di dalam pasukan.. Kontrak terkini Nasri hanya akan tamat pada 2012 nanti..
Apa-apa pun ini sahajalah berita baru dari kem Arsenal.. Dengan Atikah masih menyiasat apa maksud sebenar tweet yang Fabregas postkan.. Namun walau apa pun maksud sebenar Fabregas, Atikah harap ianya akan berikan kegembiraan kepada kita semua.. Adios..