Atikah mulakan artikel ini dengan berita sedih dari Jerman.. Arsenal Ladies menerima nasib yang sama seperti skuad Arsenal lelaki di first leg Champions League selepas tewas 2-1 kepada juara bertahan FCR 2001 Duisburg.. Untuk post match dan analisis perlawanan, sila ke blog Arsenal Ladies..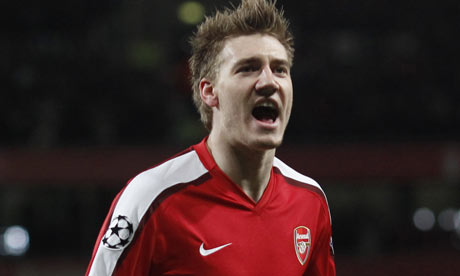 Nicklas Bendtner mencipta rekod sebagai pemain pertama Arsenal yang menjaringkan hatrik di Emirates Stadium dan hatrik tersebut juga merupakan hatrik pertamanya dalam kariernya.. Bendtner juga tersenarai dalam kelompok 6 pemain Arsenal yang menjaringkan hatrik di Eropah..
Sementara itu, Thomas Vermaelen memuji rakan sepasukannya itu atas aksi yang ditampilkan Bendtner selepas apa yang berlaku di Burnley.. "Bendtner came back brilliantly.. As a striker you have to stay confident all the time because there are some games when you don't score and that was the case on Saturday.."
"Against Porto he responded brilliantly.. He didn't only score three goals, he won a lot of headers and that is important for the team.. He doesn't struggle with confidence and that is a good thing for a striker.. You always need a good centre-forward who scores goals for the team, he did that against Porto and I hope he will score a lot of goals in the future.."
"For us it's good that Nicklas is there, you can give the long ball and he wins headers and you can put opponents under pressure.. Sometimes that is really good.. It gives you more options.. He is still young, he has a lot of qualities - he's here at Arsenal so that means he has a lot of qualities.. I hope he will score a lot of goals in the future to help us.."
"On Saturday he was still confident and I appreciate that because for a striker you have to be like that all the time.. After Porto he was no different to how he was against Burnley, he was just happy with the three goals and how he performed.." Adios!!