Sedang Atikah melayari internet, Atikah telah dikejutkan oleh satu berita yang tidak pernah Atikah sangka ianya akan berlaku terhadap skuad Arsenal Ladies.. Spy Atikah melaporkan punca utama Tony Gervaise meletak jawatan bukan kerana mahu fokus kepada akademi Arsenal Ladies tetapi kerana berlakunya masalah di dalam pengurusan Arsenal Ladies!!
Tony Gervaise mendedahkan yang berlakunya team affair semasa dia menguruskan pasukan Arsenal Ladies.. Dan ianya sebenarnya muncul sebab utama dia meletakkan jawatan daripada tugas sebagai pengurus Arsenal Ladies selepas hanya beberapa bulan mengendalikan pasukan..
"Once I'm the boss then I'm in charge and there can only be one decision maker.. But things had got a bit clouded and there were developments that weren't pleasing me.. I wasn't sacked, though – I chose to step down.."
Kemudian munculnya dakwaan yang Vic Akers yang dahulunya jurulatih dan orang utama yang menubuhkan Arsenal Ladies yang kini merupakan general manager Arsenal Ladies masuk campur urusan skuad Arsenal Ladies yang dibimbing Tony Gervaise.. Namun ianya pantas dinafikan Vic Akers yang menegaskan dia hanya back up kepada pasukan Arsenal Ladies..
Sebenarnya pengendali terkini skuad Arsenal Ladies iaitu Laura Harvey hanya akan menguruskan pasukan sehingga tamatnya kempen musim ini sahaja.. Namun Harvey menegaskan yang dia mahukan jawatan ini secara tetap bukan secara sementara..
Dengan Vic Akers mengakui jika Laura mampu membimbing pasukan ke tahap yang membanggakan lembaga pengarah akan mengadakan perbincangan untuk memberikan jawatan pengurus Arsenal Ladies secara tetap kepadanya.. Laura jelas sekali bersungguh-sungguh mahu membuktikan dia berhak untuk mendapatkannya..
"There was so much to live up to for whoever got the job after Vic, but I was surprised when Tony resigned.. I'd love the job long term though, and I'll try to prove I'm the right person.."
Apa yang pasti pengurusan Arsenal Ladies mencuba yang terbaik mereka untuk memastikan ianya tidak dihebohkan.. Namun spy Atikah masih berjaya menghidu masalah ini.. Apa yang ditakuti Atikah ialah jika masalah ini menganggu prestasi pasukan Arsenal Ladies yang diakui pasukan terbaik England..
Atikah berharap ianya tidak berlaku.. Kerana ianya merupakan sesuatu yang cukup menyedihkan untuk menyaksikan pasukan terbaik wanita England iaitu Arsenal jatuh hanya kerana masalah dalaman pasukan yang mampu dielakkan atau mampu diperbaiki..
Atikah harap masalah ini akan diselesaikan sebelum ianya menganggu prestasi pasukan.. Cukuplah dengan hakikat yang hampir setiap musim perpindahan lebih kurang seorang pemain utama Arsenal Ladies meninggalkan pasukan untuk menghadapi cabaran baru atau menyertai liga bola sepak wanita di US..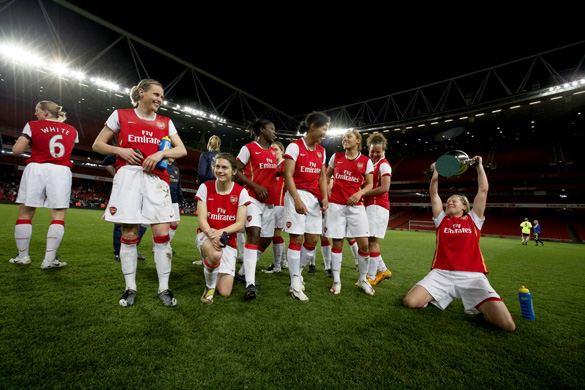 Kerana sudah semestinya fan Arsenal tidak mahu melihat pasukan Arsenal Ladies yang cukup dibanggakan ini jatuh.. Dan perlu bermula dari bawah semula.. Dan segala yang mereka lakukan selama ini hanya tinggal sejarah dan kenangan.. Adios!!