Johan Djourou mengakui proses pemulihannya berjalan lancar dan dia berharap dapat kembali berlatih bersama rakan sepasukan sebelum tamatnya kempen musim ini.. Ianya memang berita yang baik walaupun kehilangan Djourou tidak dirasai sangat seperti kehilangan Van Persie dan Kieran Gibbs dan kini Aaron Ramsey..
Namun kembalinya pemain pertahanan muda berbakat ini sudah semestinya mampu mencetuskan kegembiraan di kem Arsenal.. Apa-apa pun Atikah harap Djourou akan kembali semula secepat yang mungkin kerana dia tetap anggota penting skuad Arsenal..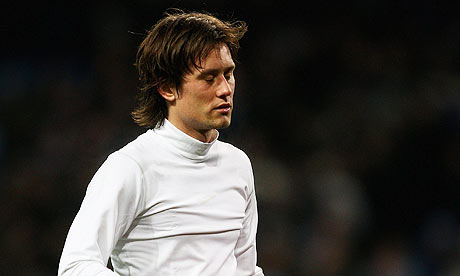 Tomas Rosicky menegaskan yang Shawcross tidak patut dipersalahkan atas kecederaan Aaron Ramsey.. Dan menambah yang pengadil perlu lebih melindungi pemain.. Kenyataannya ini mesti mengundang sedikit kemarahan dari fan Arsenal yang mahu Shawcross digantung 10 perlawanan sekurang-kurangnya..
"I think you cannot blame the player (Shawcross) or to tell that he wanted to break his leg, of course not.. But it's always against us.. The teams operate aggressively against us, that's no problem for us, I think everybody copes with that but I think we have to be more protected from the referees.."
"Because if you see, for example, how many fouls the opponents can do against us, five, six and after that it's a yellow card, we are making one or two fouls and we've got immediately yellow cards.. So we have to be more protected as well.. (I) just have to wish him a speedy recovery because he's a great talent and such a young age.. Of course, it's not easy.."
Tomas Rosicky juga mengakui Aaron Ramsey boleh menggunakan dirinya dan juga Eduardo untuk pembakar semangat untuknya kembali selepas kecederaan tersebut.. Rosicky yang baru kembali selepas bergelut dengan tahap kecederaannya sehingga kariernya dalam persoalan bangkit semula dengan cemerlang.. Dan Eduardo menerima nasib yang lebih malang dari Ramsey namun kembali semula dengan cemerlang..
"I think he can see that, he's two team-mates like Eduardo and me, we were out for a long time as well.. So he can see that there are two examples that made it as well, so he's got it in front of his eyes.. I'm sure that he will be back because he is obviously even younger than us, so the healing hopefully will be quicker for him.." Adios!!