Semalam pasukan Arsenal Ladies berjaya menewaskan Blackburn Ladies 4-1 untuk mendahului carta liga buat pertama kalinya musim ini.. Untuk post match sila ke blog
Arsenal Ladies Malaysia
..
Arsene Wenger dilaporkan bersedia merisikokan Fabregas yang kini mengalami kecederaan hamstring semasa menentang Burnley sabtu lalu untuk memimpin pasukan menewaskan FC Porto awal pagi rabu ini..
"I'm ready to take the gamble.. But if there is more than a 50 per cent chance of his hamstring going I will not take it.. You look at the Fabregas numbers and they are amazing - 14 goals and 15 assists.. He's a fantastic player with fantastic attitude and commitment.."
"And what people forget, an unbelievable work-rate, too.. This season he has taken a big step forward, massive.. At 22 years of age he has matured.." Apa-apa pun ianya banyak bergantung dengan scan yang akan dilakukan pada hari ini..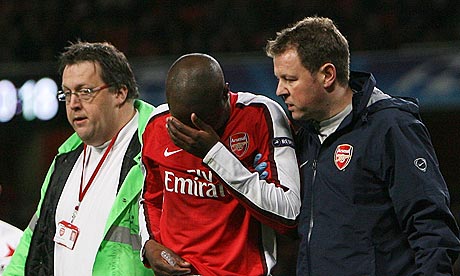 William Gallas pula dijangka sekali lagi akan diketepikan selepas masih gagal mengatasi masa kecederaan betisnya.. Atikah akan mengesahkan segala berita kecederaan terkini sebaik sahaja staf perubatan Arsenal dan Wenger mengesahkannya.. Adios!!