Perlawanan yang sepatutnya dilangsungkan awal pagi tadi iaitu perlawanan Arsenal menentang Bolton terpaksa ditunda sekali lagi selepas Emirates Stadium dilitupi salji.. Ini bermakna pemain Arsenal boleh berehat secukupnya sebelum menentang Everton minggu ini di mana Fabregas dijangka kembali..
Bercerita tentang Fabregas di sini Atikah mahu mengesahkan yang ramalan Atikah cukup tepat apabila kapten pasukan iaitu Cesc Fabregas menewaskan Alex Song dalam anugerah pemain terbaik bulan Disember dengan Fabregas memperoleh undian sebanyak 39.65% berbanding Song 30.21%.. Diaby berada di tempat ketiga dengan undian 13.72%..
Fabregas juga mengungguli anugerah pemain terbaik bulan Disember versi blog Atikah apabila menerima 54% undian mengatasi Diaby yang memperoleh 21%.. Song dan Ramsey pula berkongsi kedudukan ditempat ketiga dengan undian sebanyak 8%.. Arshavin ditempat keempat dengan undian sebanyak 5%..
Nasri ditempat kelima dengan 2% undian.. Eduardo dan Almunia berkongsi tempat keenam dengan undian sebanyak 1%.. Dan Denilson gagal meraih sebarang undian walaupun berjaya menjaringkan gol memukau pada perlawanan menentang Hull City..
Arsene Wenger memberitahu Atikah yang dia bersedia mengetepikan peraturannya tentang kontrak lanjutan kepada pemain atas 30 tahun dalam kes Gallas.. Dan menurutnya lagi Gallas mungkin akan menandatangani kontrak lanjutan selewat-lewatnya bulan depan..
"Yes unfortunately that is the rule here.. But for a centre back you can be a bit more comprehensive with the situation.. For a striker after 32 you can only give a year.. For a defender, we'll see.. I had a pre-meeting with his agents one month ago.. We agreed to meet now at the beginning of the year.."
"For me William has been amazing the whole season.. He does what you dream of as a manager – he does not talk and plays well.. He is an ambitious guy and, when he is 50:50, he plays.. For example at West Ham on Sunday, even when he is half-injured with a muscular problem and the physios tell me he might not play, he comes in and tells me he can play.."
"I have a big respect for what he has done.. He wanted to do well as a captain [as well] but what you respect in these situations is how well he responded when he was not captain anymore.. At some stage he have might considered [leaving].. But it is always the same in life, if you have the right attitude then people will rate you. It is a credit to him.. He had the right attitude and maybe now he has maybe found an appetite for the Club again.."
Atikah dan spy Atikah telah menyiasat secara terperinci tentang khabar angin yang mengatakan Fran Merida secara rasminya menjadi milik Atletico Madrid.. Menurut khabar angin tersebut Merida akan menyertai Atletico secara sah musim depan selepas menandatangani kontrak selama 5 tahun menurut ejen Merida..
Dan hasil penyiasatan Atikah dan spy Atikah perkara itu hanyalah khabar angin.. Atikah berjaya menghubungi ejen Merida iaitu Joseba Diaz yang menegaskan yang hanya Arsenal kelab yang dia tengah bincang.. "We haven't signed anything with Atletico because, simply, the only club with whom we are negotiating is Arsenal.."
"The absolute priority of the lad is to renew with them.. I repeat: There has been no agreement with anybody.. Only if we don't renew with Arsenal will it be the moment to talk with other clubs.. There's been interest from four clubs in Spain but I've not sat down to negotiate with any of them.. Arsenal have the priority.. Moreover, as always, they are acting like gentlemen.."
So secara rasmi dan leganya Atikah mengesahkan yang perpindahan Merida ke Atletico Madrid tidak berlaku.. Apa yang anda dengar itu hanyalah cerita yang direka-reka akhbar Sepanyol dan juga akhbar Britian.. So harap maklum dan jangan percaya cerita itu.. Dan jika Merida dan Arsenal gagal mencapai kata persetujuan tentang lanjutan kontrak Merida, ianya tidak mustahil jika dia akan meninggalkan Arsenal..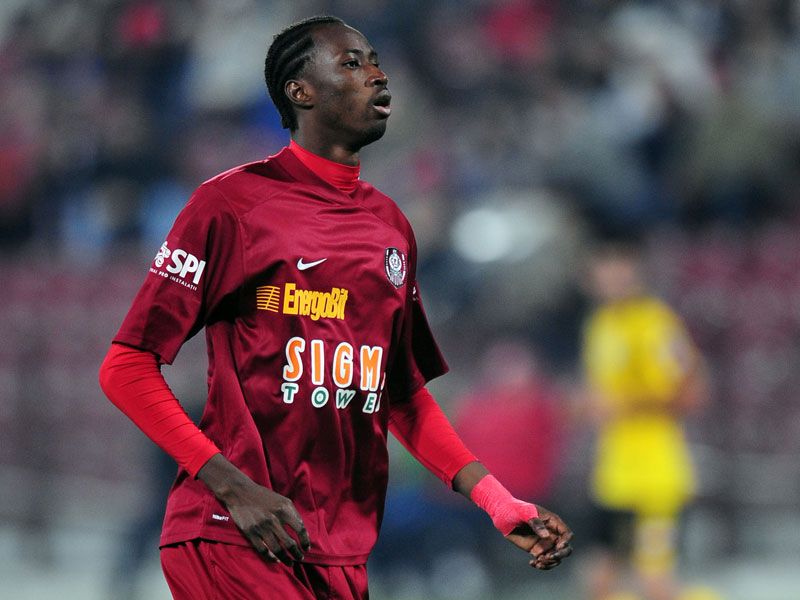 Dan berita terakhir.. Menurut presiden
CFR Cluj iaitu kelab dari Romania.. Beliau melaporkan yang Arsenal menelefon mereka tentang penyerang 19 tahun mereka iaitu Lacina Traore yang dianggap the new Adebayor.. Namun beliau menafikan yang Arsenal telah pun membuat tawaran untuk Traore.. Menurutnya lagi tawaran bernilai 4 juta euro sudah cukup untuk melihat Traore ke Emirates Stadium..

Sedikit profile Traore ialah nama penuhnya ialah Lacina Traore dilahirkan di Abidjan, Ivory Coast pada 20 Ogos 1990.. Traore mampu beraksi sebagai pemain tengah mahupun sebagai penyerang.. Dalam 18 perlawanan Traore telah pun menjaringkan 5 gol bersama
CFR Cluj..


Dan sebelum Atikah terlupa.. Pemain tengah Arsenal berusia 19 tahun iaitu Jay Emmanuel-Thomas yang baru sahaja menandatangani kontrak lanjutan bersama Arsenal mungkin akan kembali ke Blackpool secara pinjaman selepas menyinar sepanjang tempoh pinjamanya pada bulan ogos sehingga Disember.. Adios!!
P/S: Patrick Vieira semakin hampir ke Manchester City.. Jika Vieira lepas ujian kecergasan Vieira secara raminya sah milik Manchester City dengan perpindahan percuma..