Thomas Vermaelen akan terlepas perlawanan menentang Sunderland esok selepas proses pemulihannya daripada kecederaan achilles berjalan dengan lambat sekali.. Namun Vermaelen dijangka kembali semula pada perlawanan menentang pendatang baru liga West Bromwich Albion minggu depan..
Abou Diaby yang mengalami kecederaan buku lali semasa menentang Bolton minggu lalu dijangka akan kembali semasa menentang West Brom juga selepas Wenger memberanikan dirinya membuat target kepulangan semula Diaby.. Arsenal juga mengesahkan tiada sebarang kecederaan baru yang di alami mana-mana pemain Arsenal.. Ini bermakna pasukan yang sama akan menentang Sunderland esok..
Aaron Ramsey terus membuatkan fans Arsenal tidak sabar-sabar menanti kepulangan semula beliau di atas padang selepas megakui tulang kakinya dan kembali kuat dan juga menegaskan yang beliau tidak akan risau jika diberikan cabaran.. Ramsey juga mengakui tiada lagi kesakitan di kakinya dan beliau cukup tidak sabar untuk kembali..
Ramsey menganggap apa yang berlaku kepadanya membuatkan beliau sedar bertapa pentingnya keriernya terhadap dirinya.. Ini ialah apa yang dikatakan Ramsey.. "No, I won't have any second thought.. I've seen the X-rays, I've seen the scans and the leg is strong so I won't be thinking about the injury when I go in for a challenge.."
"I have started running now and I have had good days and bad days but it [my recovery] is coming along and hopefully I can get back soon.. There is no pain anymore.. The only good thing to come from this is that it has helped me realise how much my career means to me.. Now I can't wait to get back training and playing.."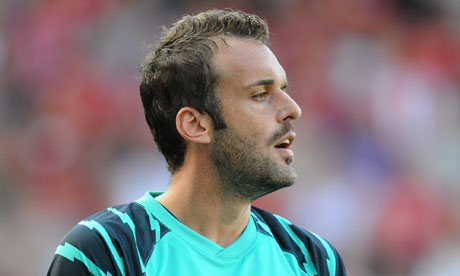 Selepas Cesc Fabregas menegaskan yang kesemua rakan sepasukannya ada kepercayaan terhadap kapten ketiga Arsenal, Manuel Almunia, kini tiba pula giliran Arsene Wenger yang menegaskan yang Almunia mempunyai sokongan penuh daripadanya.. Inilah apa yang dikatakan Wenger..
"Our goalkeepers have been exposed to a lot of pressure in the summer and there was a lot of speculation.. Their mental strength was tested more than ever.. But when you are an Arsenal footballer you have to live with that.. In every position you know you can be challenged - that is part of the job.. The goalkeepers understand and accept that.."
"I believe we have four very, very good goalkeepers.. Manuel Almunia is in front at the moment because of his quality and the way he accepted what happened to him.. Since the start of the season the way he has responded to the challenge has been absolutely outstanding.. That is why I give him my full support.. It is sometimes easy to reduce that fact we dropped points [last season] to the fault of the goalkeeper.. Normally in any goal you have four or five mistakes.. But the keeper has the last.. You can take any goalkeeper and they all make mistakes.."
Betul apa yang dikatakan Wenger tu.. Setiap penjaga gol melakukan kesilapan.. Kalau orang biasa pun melakukan kesilapan, inikan pula penjaga gol yang dipenuhi tekanan untuk memastikan gawangnya tidak dibocori.. Cuma yang membezakan ialah sama ada kesilapan tersebut memusnahkan pasukan ataupun tidak.. Adios!!