Akhirnya Cesc Fabregas membuka mulutnya tentang spekulasi dia akan meninggalkan Arsenal selepas puas spy Atikah cuba menghubunginya.. Dan hasilnya, Fabregas memberitahu sesuatu yang semua fans Arsenal lega, iaitu dia sayangkan Arsenal lebih dari segala-galanya..
Malahan Fabregas mengakui dia lebih selesa bersama Arsenal berbanding berada di rumahnya sendiri.. Kenyataan ini jelas akan memberikan tamparan hebat kepada Barcelona.. Dan Fabregas juga menegaskan masa depannya terletak di tangan Arsene Wenger..
"I will say only one thing – I have got massive respect for Arsene Wenger, Arsenal football club and the Arsenal fans.. Even in my own house I have not felt as loved as I have at Arsenal.. [With Arsene Wenger] It was probably the greatest conversation I have had with someone in my life.."
"It's not up to me any more.. It's just now about Arsenal and whoever it has to be and that's it.. I don't want to say anything else.. I just want to be focused for the World Cup because it's the most important thing.. The rest, the future, I'm not interested in the future.."
"The only important thing is to form part of this team and play in the World Cup.. When I play it's always to win and help my team-mates.. I will give everything to help Spain be champions.."
Dengan kenyataan Fabregas ini Atikah yakin telah melegakan ramai fans Arsenal.. Jadi sama ada Fab kekal atau tidak ianya bergantung kepada Arsene Wenger.. Kalau kita x nak kehilangan Fabregas kita mesti kekalkan Wenger atau kita akan kehilangan sebahagian besar tonggak utama pasukan..
Namun spy Atikah melaporkan yang Barcelona sudah menelefon Arsenal untuk berbincang tentang masa depan Fabregas.. Namun pengurusan Arsenal menegaskan yang Fabregas bukan untuk di jual dan pengurusan Arsenal juga tidak berminat untuk menerima apa-apa tawaran..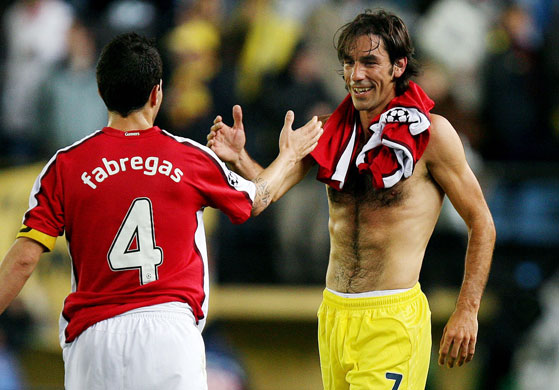 Sementara itu lagenda Arsenal, Robert Pires, yakin yang Fabregas x akan ke mana-mana dengan menegaskan yang pengurusan Arsenal tidak akan tunduk mudah untuk melepaskan Cesc Fabregas kerana Fabregas merupakan imej kelab.. Dan Pires juga yakin yang dilaporkan Fabregas meminta Arsenal melepaskannya adalah tidak benar sama sekali..
Kerana Fabregas merupakan seorang budak yang baik dan dia tahu yang dia terhutang budi kepada Arsenal dan Arsene Wenger kerana mengilap bakatnya dan memberikan kenyakinan penuh terhadapnya.. Berikut ialah apa yang Robert Pires beritahu spy Atikah..
"
I don't think that Arsenal
are going to allow Cesc to leave..
Cesc is the image of Arsenal.. I'll bet that we will once again see Cesc in an Arsenal shirt..
If we see a great Cesc today it's because Arsene Wenger
has great confidence in him, as such I don't see Cesc leaving Arsenal.."

Tentang rumours yang mengatakan Fabregas mendesak Arsenal melepaskannya, ini komen Pires.. "
I don't think so, because he's a very good kid, he has a very good education and knows that he's got to where he has today thanks to Wenger and to the confidence the team has in him.."


Jika semalam Atikah postkan yang Carlos Vela meluahkan keingginannya meninggalkan pasukan untuk aksi first team, kini tiba pula giliran Nicklas Bendtner.. Nampaknya kehadiran Marouane Chamakh mengugat peluang kedua-dua pemain yang meningkat naik ini nampaknya..
Tapi relaks.. Bendtner x akan ke mana-mana.. Bendtner sebenarnya hanya meluahkan impiannya untuk bermain bersama 2 kelab gergasi Sepanyol iaitu di antara Barcelona dan Real Madrid suatu hari nanti.. Dan nampaknya kenyataannya ini mengusarkan ramai fans Arsenal memandangkan ini bukanlah waktu yang sesuai untuk Bendtner meluahkan impiannya bermain di Sepanyol..
Tapi apa-apa pun Atikah harap dia kekal bersama Arsenal dalam tempoh yang cukup lama memandangkan prestasinya semakin meningkat naik dan malahan buat 2 musim berturut-turut Bendtner muncul penyerang Arsenal paling menyerlah bersama-sama RVP kecuali musim 2009/2010 di mana Bendtner lebih menyerlah memandangkan penyerang Arsenal mempunyai masalah kecederaan dan masalah prestasi.. Adios!!