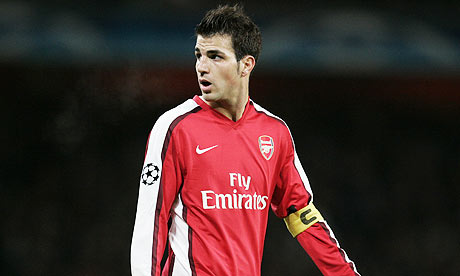 Arsenal kini berhadapan masalah baru untuk mengekalkan Fabregas.. Menurut spy Atikah, ayah Fabregas mahu Arsenal melepaskan Fabregas ke Barcena musim panas ini.. Pengurusan Arsenal bersedia untuk melepaskan Fabregas namun dengan tawaran bernilai 80 juta pound.. Namun mungkin tawaran 50 juta pound dan tambahan pemain mungkin sudah cukup untuk Arsenal memulakan perbincangan..
Namun dengan masalah kewangan yang melanda Barcelona sekarang ini, ianya agak sukar untuk mereka menawarkan tawaran setinggi itu.. Tetapi walaupun semakin heboh Fabregas memang akan tinggalkan Arsenal, Pengerusi Arsenal, Peter Hill-Wood mengakui masih belum menerima tawaran untuk Fabregas lagi..
"We have heard nothing at all and I am not looking for a telephone call from them
..
As far as I am concerned, he is our player.. If they want to make a bid it is up to them..
We are very surprised, but delighted.."
Atikah yakin segala khabar angin Fab akan pergi x akan menjadi kenyataan memandangkan mereka ada masalah kewangan.. Tambahan pula khabar angin ini mungkin disebabkan pilihan presiden baru Barcelona yang akan ambil alih tidak lama lagi.. So hiraukan segala berita ini walaupun ada akhbar beritahu yang Fab dah sain pra kontrak dan sebagainya..
Kerana selagi Arsenal tidak menerima tawaran dan bersetuju dengan perbincangan perpindahan Fabregas, selagi itu Fabregas akan terus menjadi milik Arsenal sekurang-kurangnya sehingga 2015 di mana kontraknya bersama Arsenal akan tamat.. So jangan risau, pedulikan rumours itu kerana hakikatnya tiada tawaran lagi dikemukakan oleh mana-mana pasukan untuk Fabregas..
Kehadiran Chamakh nampaknya menyaksikan Carlos Vela semakin dipinggirkan.. Vela memberitahu spy Atikah yang dia akan mempertimbangkan segala tawaran yang diterimanya musim panas ini.. Namun dalam masa yang sama Vela mahu mengunakan aksi pentas antarabangsa ini bukan sahaja menarik perhatian kelab lain namun perhatian Arsene Wenger juga.. Adios!!