RVP muncul pemain kedua Arsenal yang berbicara tentang prospek bergandingan bersama Chamakh musim depan selepas Samir Nasri melakukannya hanya beberapa hari selepas dilaporkan Chamakh sain pra kontrak bersama Arsenal.. Van Persie sudah pasti akan melihat dirinya diapit Arshavin dan Chamakh musim depan dengan Fabregas dan Nasri akan memberikan hantaran-hantaran untuk mereka..
Bayangkan kesebelasan utama Arsenal musim depan.. Wow memang mantap.. Tapi Atikah rasa lebih baik Wenger mainkan RVP di bahagian kiri mahupun kanan di bahagian serangan Arsenal musim depan.. Dengan Chamakh menjadi penyerang tengah.. RVP boleh memberikan hantaran-hantaran yang diperlukan Chamakh untuk menanduk masuk gol untuk Arsenal..
Hmm.. X sabar rasanya nak tengok Chamakh sah menjadi pemain pertama yang dibeli Arsenal musim panas ini.. Tapi apa-apa pun mari kita baca apa yang dikatakan RVP tentang prospek bergandingan bersama Chamakh..
"[I know him] just from TV.. He looks good, he looks quite strong in the air, he scores lots of goals with his head and he looks quite confident on the ball.. Hopefully it [the deal] goes through.. I think it is good for all of us and that is why I am happy to see him coming here.."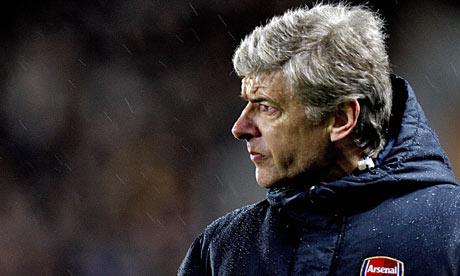 Sementara itu Wenger menafikan dakwaan media yang melaporkan dia telah menandatangani kontrak lanjutan bersama Arsenal.. Kontrak terkini Wenger akan tamat pada Jun 2011 dan Wenger telah menegaskan yang pemainnya yang bertanggungjawab untuk menentukan masa depannya di Arsenal selepas 5 musim berturut-turut Arsenal gagal menjulang sebarang piala kecuali Piala Emirates musim panas lalu..
"At the moment I have not extended.. I am very happy with my Club and I am always respecting my contracts.. But if I extend it and when I don't know yet.."
CEO Arsenal, Ivan Gazidis yakin yang Arsene Wenger akan melanjutkan kontraknya bersama Arsenal pada musim luruh ini di mana Wenger mengesahkan dia akan berbincang bersama pengurusan Arsenal tentang kontraknya pada masa itu..
"I think everybody knows that the board has always backed Arsène and believes in him totally.. Arsène, in return has a great love for the Club.. There's no dimming in his desire and I've no doubt that we'll extend his contract, but we'll do that very quietly and with the minimum of fuss.. When it's appropriate to make an announcement we will do so.." Adios!!