Spy Atikah mendedahkan yang jika Barcelona mahukan Fabregas mereka perlu tunggu sehingga tamat Piala Dunia dan Fabregas akan menjadi milik mereka dengan harga 80 juta pound !! Jika Fabregas berjaya menampilkan aksi memukau di Piala Dunia dan membantu Sepanyol menjulang Piala Dunia, harga Fabregas sememangnya setinggi itu..
Namun dengan hakikat yang pengurusan Barcelona yang takut di ambil tindakan oleh FIFA jika Arsenal melaporkan perangai mereka kepada FIFA, menegaskan yang jika Arsenal katakan tidak terhadap tawaran 30 juta pound, mereka tidak akan membuat tawaran selanjutnya lagi kerana mahu menghormati kontrak Fab bersama Arsenal..
Namun dengan rumuors terbaru ini, Atikah masih yakin yang Fabregas akan kekal.. Kerana sanggupkah mereka membayar Arsenal 80 juta pound untuk khidmat bekas pelajar mereka?? Terutama sekali mereka sedang dibelenggu hutang yang banyak dan Arsenal pula kewangan sudah semakin stabil selepas berhijrah ke stadium baru..
Dengan keadaan Arsenal yang tidak terdesak memerlukan sebarang wang, sudah semestinya tawaran kurang dari 80 juta pound akan ditolak bulat-bulat bukan hanya oleh Arsene Wenger tetapi pengurusan Arsenal juga.. Atikah yakin Fabregas masih sayang akan Arsenal cuma dia kecewa dengan 5 tahun kemarau trofi kejuaraan dan hakikat masa depan Wenger bersama Arsenal agak samar..
Tapi jika Arsenal berjaya julang EPL musim depan dan Wenger melanjutkan kontraknya, Fabregas akan tampil kehadapan dan menolak prospek perpindahan ke Barcelona seperti mana dia lakukan awal musim ini semasa Arsenal mencabar kejuaraan liga dan beraksi cemerlang di kejohanan Eropah sehinggalah kecederaannya memusnahkan segala prospek memenangi sesuatu musim ini..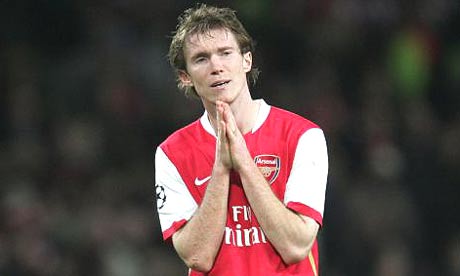 Rakan baik Fabregas, Alexander Hleb yang sebelum ini memujuknya ke Barca namun kini merayu agak Fabregas tidak mengikut jejak langkahnya.. Karier Hleb agak merudum sejak menyertai Barcelona dan hanya menjadi pemain lebihan sejak meninggalkan Arsenal pada tahun 2008..
Hleb mahu Fabregas kekal di Arsenal kerana dia yakin yang Arsenal akan memenangi sesuatu musim depan jika kesemua pemain kekal dan penambahan beberapa pemain berpengalaman akan membantu Arsenal melangkah lebih jauh dalam kempen musim hadapan..
"I stay in touch with Cesc a lot and it's hard for me to judge what he should do.. He and Gael Clichy are both very good players who must make their own decisions about their future.. But I would advise them to stay.."
"It didn't work out for Arsenal this season but, if Arsene Wenger keeps the side together, they can really go far next year.. They play great football.. It's partly a question of experience and next season Arsenal will have more of it if everyone stays.. All things being equal, I think they have a very good chance of the title next season.."
Atikah tidak risau sangat dengan laporan mengatakan Barca turut berminat dengan khidmat Clichy dan RVP kerana walaupun kontrak Clichy berbaki 2 tahun lagi tetapi dia berminat untuk kekal di Arsenal namun mungkin akan mempertimbangkannya jika Wenger tidak akan kekal di Arsenal pada musim 2011/2012..
Sementara RVP pula kalau dia boleh tolak tawaran beberapa kelab besar musim lepas masa kontraknya berbaki setahun, kenapa pulak sekarang ini dia x boleh tolak.. Lagipun Van Persie hanya beraksi beberapa bolan sahaja bersama Arsenal musim 2009/2010 sebelum alami kecederaan serius dan sememangnya kecederaan RVP telah mencacatkan peluang Arsenal menjulang piala.. Adios!!