Ray Parlour menyarankan Arsenal pandang ke hadapan jika Fabregas meninggalkan Arsenal musim panas ini.. Bukannya Parlour menganggap Fabregas tidak penting di dalam pasukan Arsenal.. Namun jika hakikatnya Fabregas tidak gembira di Arsenal, ianya satu tugas sukar untuk Wenger mengekalkan Fabregas..
"I hope Arsène can keep him but if you fly from Spain to London to tell the manager that I want to leave it's very hard to say 'no, we want you to stay'.. Maybe he's made his decision already.. Wenger is one of those managers who won't stay in people's way.. He'll be a big loss but in the meantime they might get £40m in the transfer and if they can use that money right they have to move on as a club.."
"If Arsenal have said 'ok, we can't keep Cesc Fabregas then we have to get the best deal for the club now - whether it's players and money or money on its own.." Tentang pandangannya yang mengatakan Barcelona akan memberikan Yaya Toure sekali, ini komen Parlour..
"Arsene Wenger will look at Barcelona's squad and say 'Look, I like him, he's a very good player who can strengthen our squad - he's the player we need'.. I look at the squad now and think they need four players - two centre-halves if William Gallas leaves, maybe a holding midfield player as well, a centre-forward, even a goalkeeper - so five then!"
Martin Keown iaitu lagenda dan pemain kesayangan peminat suatu ketika dahulu memberitahu spy Atikah yang hari Fabregas meninggalkan Arsenal akan menyaksikan fans Arsenal akan berduka..
"[Cesc]'s the life and blood of that club, he's the captain, a wonderful player.. If you look at the strategy the manager's had to adopt, going with the policy of grooming young players, here's another one being snatched away as he's coming into his prime.. It's a very sad day for the Arsenal fans.."
Walaupun Keown akan bersedih atas kejilangan Fabregas.. Keown memback up Wenger untuk mencari pengganti sesuai apabila Fabregas meninggalkan Arsenal nanti.. "He's been in a youth team with Messi and Pique.. He sees them winning things. He pines for home.."
"It's a difficult one to manage for Arsene Wenger.. It may well be better to let him move on.. He will spend wisely.. Even without losing Fabregas, he'll dip into the transfer market to buy some players with a bit more steel, a bit more aggression.."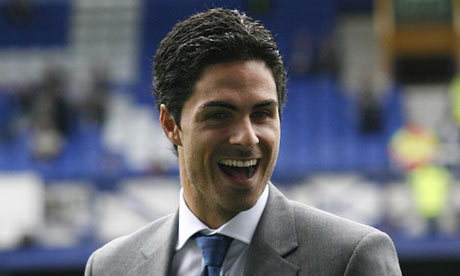 Namun pemain yang dijangka akan dibeli Wenger jika Fabregas tinggalkan Arsenal iaitu Mikel Arteta telah menolak sebarang perpindahan dari Merseyside ke North London menurut ejen Mikel Arteta..
Spy Atikah boleh mengesahkan yang walaupun dakwaan dari Barcelona mengatakan mereka bersedia mengemukakan tawaran untuk Fabregas, hakikatnya masih belum ada sebarang tawaran dikemukakan oleh mana-mana pasukan untuk mendapatkan khidmat kapten pasukan, Cesc Fabregas.. Adios!!