Atikah buntu akal apa yang nak tulis dengan keputusan seri 0-0 menentang Man. City semalam.. Tiada siapa untuk dikutuk atau dipersalahkan.. Namun apa yang pasti kurangnya kreativiti telah memaksa Arsenal hanya mampu seri 0-0 dengan Man. City.. Namun mungkin juga pemain Arsenal masih trauma dengan kekalahan sebelum ini..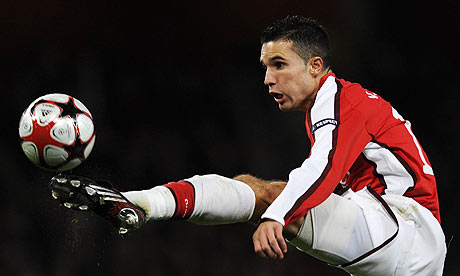 Robin Van Persie diberikan tanggungjawab sebagai kapten pada perlawanan ini disebabkan Fabregas masih lagi mengalami kecederaan.. Van Persie memberikan petunjuk yang dia semakin hampir ke prestasi terbaiknya selepas sekian lama diketepikan akibat kecederaan.. Berita baik untuk fans Arsenal nampaknya..
Kurangnya kreativiti telah menyaksikan Van Persie tidak mendapat peluang untuk menjaringkan gol dengan Nasri jelas sekali gagal untuk mengisi kekosongan yang ditinggalkan kapten pasukan, Cesc Fabregas.. Mungkin ada yang mengatakan Arsenal sudah bersedia melepaskan Fab4 tetapi hakikatnya tidak..
Bayangkan Fabregas ada dalam kesebelasan utama semalam.. Sudah pastinya RVP akan mendapat lorongan bola yang cantik lagi tepat dalam usahanya menjaringkan gol untuk gol kemenangan Arsenal.. Dengan masih tiada siapa di bahagian tengah yang boleh mencapai standart Fab4, selagi itulah Arsenal masih belum bersedia melepaskan Fabregas..
Atikah bukannya bermaksud untuk memperkecilkan bakat Nasri.. Namun sejujurnya standart Fabregas jauh berbeza daripada Nasri.. Nasri perlu lebih banyak belajar dari segi passing terutamanya sebelum Nasri layak untuk disamakan dengan Fabregas.. Mungkin musim panas ini Wenger patut berfikir untuk membeli back up Fabregas..
Seperti Yoann Gourcuff.. Namun Gourcuff punya kelebihan banyak kepada serangan berbanding Fabregas yang agak setanding di antara bertahan dan menyerang.. Namun kehadiran Gourcuff dalam pasukan musim depan boleh menguatkan jentera tengah Arsenal.. Namun adakah Wenger sanggup membeli Gourcuff yang harganya mampu mencecah 35 juta pound musim panas ini??
Dengan tiada siapa yang akan tahu adakah Ramsey akan beraksi kembali di tahap terbaiknya selepas kecederaan serius yang di alaminya, pembelian Yoann Gourcuff pastinya akan mengurangkan sedikit kurangnya kreativiti di bahagian tengah Arsenal musim depan.. Dan seorang back up yang bagus jika Fabregas mengalami kecederaan..
Sol Campbell pula terus menampilkan aksi cemerlangnya dalam mengisi kekosongan yang ditinggalkan Vermaelen dan Gallas.. Namun Atikah masih belum boleh memastikan 100% yang Campbell akan kekal.. Atikah yakin ramai fans Arsenal yang mahukan Campbell kekal selepas apa yang ditampilkannya setakat ini..
Namun Wenger masih belum memberikan sebarang petunjuk yang Campbell akan kekal.. Namun Atikah menjangkakan yang akan adanya perbincangan tentang kontrak lanjutan untuk Sol Campbell selepas memastikan usianya bukanlah penghalang untuk dia beraksi cemerlang di EPL..
Sementara itu Wenger untuk menerus memberikan petunjuk yang Lukasz Fabianski semakin hampir menyarung jersi no.1 Arsenal selepas Wenger memuji persembahan Fabianski dalam segi pembacaan permainan dalam perlawanan pagi tadi.. Wenger mengakui jika Fabianski mampu kekal fokus pada masa permainan, tidak mustahil dia akan membuktikan apa yang dia bagus selama ini..
"I believe it was important that he can play a game without having a lack of concentration.. Today he was spot on from the first to the last minute.. He read all the situations very well and that is what you want from him.. I always said he is one of the most talented goalkeepers and when he gets the concentration right he will get there.."