Arsenal akan menanti kunjugan Man. City di Emirates Stadium pada pukul 12.25 pagi ini dengan siaran langsung akan disiarkan di Astro ESPN.. Perlawanan ini akan menyaksikan pengkhianat, Emmanuel Adebayor kembali ke Arsenal buat pertama kalinya sejak ke Eastland begitu juga dengan Kolo Toure dan juga lagenda Arsenal, Patrick Vieira..
Atikah rasa tiada masa lagi nak membiarkan Van Persie berada di bangku simpanan kali ini.. Lihat sajalah.. 2 kali Van Persie di bangku simpanan 2 kali juga Arsenal kalah.. Kita tiada masa untuk mencatatkan keputusan yang mengecewakan lagi.. Kita perlu menang dan memastikan Adebayor tidak memalukan kita lagi..

FABIANSKI
SAGNA-----CAMPBELL-----SILVESTRE-----CLICHY
NASRI-----SONG-----DIABY
WALCOTT-----BENDTNER-----VAN PERSIE
Dengan kecederaan Manuel Almunia, ini menyaksikan Fabianski akan terus berada di gawang Arsenal.. Sementara Song pula akan kembali ke dalam pasukan selepas pulih dari kecederaan.. Wenger memberikan petunjuk yang Silvestre akan kekal di bahagian pertahanan selepas menegaskan yang Song tidak bersedia untuk beraksi sebagai pemain pertahanan tengah..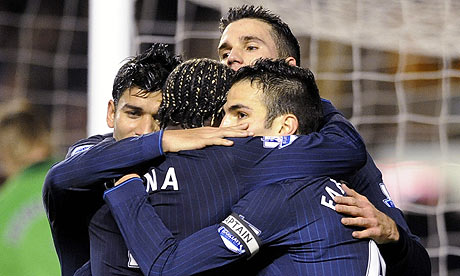 Wenger juga sempat memberikan komen tentang plan Man. City untuk membida kapten pasukan, Cesc Fabregas dengan Wenger menegaskan kesemua pemain Arsenal tidak boleh diusik kerana masih terikat kontrak dengan Arsenal melainkan 3 pemain, Silvestre, Gallas dan Campbell yang akan tamat kontrak bulan depan..
Wenger juga memberitahu yang jika mereka mahukan pemain selain nama tersebut.. Mereka perlu menghubungi Wenger untuk membuat tawaran.. Namun Atikah yakin tiada lagi pemain Arsenal yang akan ke Eastland walaupun mereka tawarkan 100 juta pound untuk Fabregas sekali pun.. Kerana Arsenal tiada masalah dengan kewangan..
Disebalik sambutan dingin yang pasti fans Arsenal akan berikan kepada Adebayor.. Vieira akan menerima sambutan seperti mana diterima Henry dan Robert Pires semasa kembali ke Emirates Stadium.. Dan Wenger mengakui yang agak sukar untuk dia menerima kenyataan yang dia tidak membawa pulang kembali Vieira..
Namun dalam masa yang sama Wenger yakin dia membuat keputusan yang betul untuk tidak membawa pulang Veira kerana takut akan adanya harapan yang cukup tinggi akan diletakkan di bahu Vieira..
"It was a real tough call because I have a special relation with Patrick.. He came here the same time, we were successful together.. I respect his fighting attitude.. I could go always with Patrick to Sheffield, to Bolton, and he would be ready to die.."
"Somewhere as well you feel responsible not to make a mistake when a player has been so big for the Club.. It is never the same.. People will be more demanding, less forgiving.. Maybe I thought it was a better decision.." Adios!!