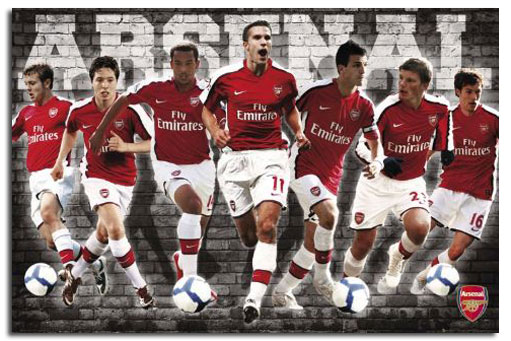 Terima kasih kepada Muazenal yang telah memberikan satu idea yang cukup menarik untuk Atikah bincangkan di blog Arsenal Atikah ini.. Seperti yang kita tahu, Arsenal dan Barcelona bolehla dikatakan mempunyai satu hubungan yang cukup rapat terutama sekali dalam pemasaran pemain kecuali hakikat yang Barcelona agak tidak menghormati Arsenal kadang-kadang dalam kes Cesc Fabregas..
Ramai pemain remaja dari skuad Barcelona dikaitkan dengan perpindahan ke Arsenal untuk mengasah bakat mereka.. Sementara pemain Arsenal yang telah diasah akan dikaitkan dengan perpindahan besar ke Barcelona.. Ramai sudah lagenda Arsenal yang melakukannya seperti Marc Overmars dan Theirry Henry..
Namun mereka itu kebanyakannya memperoleh sudah banyak kejayaan bersama Arsenal kecuali kejuaraan Eropah.. Kecuali dalam kes Alexander Hleb yang baru meningkat naik terus berpindah ke Barca dan last-last dipinggirkan dan khabar angin mengatakan dia akan kembali ke Arsenal selepas Barca gembira untuk mengembalikannya kepada Arsenal..
Namun lupakan perkara yang dahulu.. Atikah nak senaraikan beberapa nama pemain Arsenal yang cukup diinginkan oleh Barcelona.. Dengan yang berada di atas senarai mereka tidak lain dan tidak bukan ialah kapten pasukan Arsenal, Cesc Fabregas..
Fans Arsenal seakan-akan mengucapkan selamat tinggal kepada RVP yang menampilkan aksi cemerlang sepanjang musim lepas selepas terdapat khabar angin yang pengurusan Arsenal gagal mencapai kata persetujuan dengan kontrak baru Van Persie (hakikatnya RVP sain kontrak lanjutan).. Dengan dilaporkan cukup berminat untuk mendapatkan Van Persie..
Namun Van Persie dengan selambanya menolak mentah-mentah tawaran dari kelab catalan tersebut dan beberapa kelab gergasi yang lain untuk terus kekal bersama kelab yang dia sayangi Arsenal.. Namun mampukah pemain yang Atikah sebutkan selepas ini akan mengikut jejak langkah Van Persie??
Dari musim lepas lagi Gael Clichy dikaitkan akan berpindah ke Barcelona atau pun Real Madrid.. Namun hakikatnya Clichy mahu kekal di Arsenal selepas mengambil kira tentang penyeksaan Alexander Hleb yang tersisih di dalam skuad Barcelona selepas berhijrah dari Arsenal.. Dengan saingan dari Eric Abidal dan Maxwell pastinya dia sedar tentang hakikat dia pasti akan disisihkan..
"It proves that sometimes leaving for another big club is not always the right decision..
When you move you have to be sure that the club really wants you - you want to know, not necessarily that you'll be playing all the time, but that you're part of it," he concluded.." Jika Clichy masih berpegang dengan kata-katanya itu pastinya dia akan kekal di Arsenal..


Pemain paling konsisten Arsenal, Bacary Sgan juga tidak terlepas dari perhatian Barcelona.. Barcelona dilaporkan akan bersaing dengan Inter musim panas ini untuk khidmat Sagna.. Namun Sagna mungkin tidak berminat untuk ke Inter walaupun Maicon meninggalkan Inter.. Dan dengan hakikat Dani Alves menjadi pilihan utama Pep Guardiola, Atikah x nampak sebab mengapa Sagna patut tinggalkan Arsenal..
Emmanuel Eboue juga menjadi sasaran Guardiola musim panas ini dengan percuma selepas kontraknya tamat musim panas ini (mengikut akhbar).. Namun menurut spy Atikah, kontrak Eboue tidak tamat lagi dan hakikat Wenger tidak heboh untuk melanjutkan kontrak Eboue walaupun Eboue beraksi cemerlang musim ini..
Ianya mungkin tidak akan menjadi kenyataan dengan fans Arsenal semakin menyayangi Eboue, Eboue juga mahu kekal dengan suasana posistif ini.. So ianya mungkin tidak akan berlaku..
Cecs Fabregas.. Nama yang akan disebut setiap kali pintu perpindahan dibuka.. Wenger, Fabregas dan setiap pengurusan Arsenal sudah penat untuk menegaskan yang Fabregas akan kekal musim depan setiap kali khabar angin Arsenal mencapai kata persetujuan dengan Arsenal sehinggakan suatu ketika pengurusan Arsenal meminta setiap pasukan yang mahukan Fab meyediakan sekurang-kurangnya 40 juta pound untuk khidmat Fbaregas..
Atikah dah lali dengan segala berita perpindahan Fabregas.. Tapi Atikah pasti Fabregas akan kekal musim hadapan.. Dengan Wenger sendiri semakin naik angin dengan perkara ini semasa ditemu ramah oleh media semalam..
"At some stage, the Club has the final word.. I believe if a player is injured for two years and he has a contract, you pay that player for two years.. So, I cannot sit here every week and answer the same question about players who have a four or five-year contract.. Every week, in every press conference, I get asked if Fabregas will stay or not.. Frankly, I believe it is not serious. The players are under contract and I always have to answer this.."
"If the players are free, I will tell you.. Gallas can sign where he wants. We are trying to re-sign him but he is legally free to sign where he wants so I can tell you I don't know where he will go.. Maybe he will stay, maybe he will go.. But when the players are under contract, why should we answer the same questions? Every week, it is exactly the same with Fabregas.. Why? I don't know.."
"When you sign a contract with a player, he commits his future to the club and I am surprised that you question the contracts of the players.. You act as if the contract doesn't mean anything.. In what kind of society do we live? Nobody puts a gun to your head when you sign a contract. We have more players who want to join us than players who want to leave us but you always put us in a position where we have to defend the players we want to keep who are under contract.."
"It should be absolutely logical to you that a player who is paid as he is paid respects his contract.. I respect my contract because I have loyalty to the players so why should the players not respect theirs? We have gone for a policy of development of the team over a longer period.. We have stood up for these young players so it is down to them to pay us back, stay together and show that we can be successful together.."
Atikah x sabar pula menunggu dengan khabar angin pemain seperti Thomas Vermaelen, Nicklas Bendtner dan pemain-pemain lain akan dikaitkan ke Barcelona.. Atikah x faham.. Barcelona bukannya x ada pemain yang bagus tapi masih nakkan pemain Arsenal yang sering berhadapan laluan sukar untuk memenangi satu piala setiap musim..
Hmm.. Arsenal sebenarnya boleh jadi sehebat atau lebih hebat dari Barca jika pemain yang diasuh Wenger sekian lama meninggalkan pasukan semasa dia boleh muncul pemain terbaik Arsenal musim seterusnya.. Harap-harap mereka bersabarlah (termasuk fans Arsenal).. Untuk mencapai kejayaan yang berpanjangan, kita tidak boleh hanya membuat pasukan dalam masa sehari..
Ianya mengambil masa yang lama dan tidak mustahil musim depan atau musim seterusnya Arsenal akan menewaskan setiap pasukan di dunia ini.. Asalkan pemain dalam pasukan (yang sering improve) kekal.. Dan pernambahan beberapa pemain pasti akan mangukuhkan lagi pasukan Arsenal.. Adios!!