Jika part 1 sebelum ini Colin Lewin lebih banyak berbicara tentang berita-berita terkini staf perubatan Arsenal dan sebab-sebab mengapa pemain Arsenal mudah menerima kecederaan.. Kali ini kita berbicara tentang berita-berita terkini daripada Fabregas, Djourou, Gibbs, Ramsey dan Van Persie..
How is Cesc Fabregas ?


"Cesc is doing well. He is likely to be out for the rest of the season with a hairline crack of his fibula. If everything goes well he will comfortably make the World Cup and we will be constantly monitoring him. The injury was certainly as a result of the tackle by Carlos Puyol at the end of the Barcelona game. There were some ill-informed media reports that the fracture was sustained before the Barcelona game and those reports, put simply, were untrue. He suffered heavy bruising in the Birmingham City game but to suggest that someone can run around for 85 minutes against Barcelona with a fractured fibula is just farcical.
"We examined Cesc after the Birmingham game and he had suffered heavy bruising. The x-rays confirmed that there was no fracture. At the end of the Barcelona match, following the challenge from Puyol, Cesc had an x-ray to determine the damage. It showed a hairline crack, which unfortunately means Cesc will miss the rest of the season."
How are the other players with long-term injury problems doing?


" Johan Djourou had a difficult problem with the cartilage in his knee joint.. He has made virtually a full recovery and we expect him to train fully with the squad within the next fortnight.."
"As will, Kieran Gibbs.. They have both made full recoveries from what could have been career-threatening injuries.."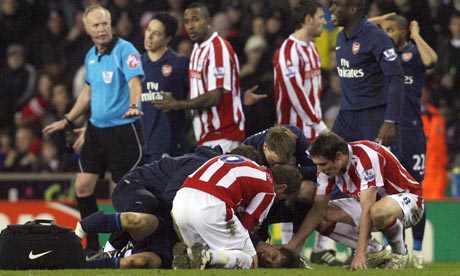 How about
Aaron Ramsey?
"Aaron will make a full recovery. Other footballers have suffered a similar injury. The surgery went very well and the early signs are very good. We don't expect Aaron to return until the early autumn. He has some metalwork in there and that provides the stability for the fracture. The specialists have encouraged him to walk and this weight-bearing will aid the fracture healing. It's early days but the signs are very good."
Finally how about Robin Van Persie?


"Robin will be joining the squad for full training imminently.. That is a big boost for the club and to see Johan and Kieran training with the team in the next fortnight will give everyone a big lift.."
Jadi sahla Robin Van Persie, Johan Djourou dan Kieran Gibbs akan kembali berlatihan bersama pasukan dalam masa terdekat ini.. Jadi ini sudah sepertinya satu berita baik selepas Fabregas disahkan terlepas aksi sepanjang musim ini.. Adios!!