Cesc Fabregas mengakui yang dia cukup takut dengan keputusan yang akan diterimanya nanti terhadap kecederaan kaki kirinya.. Namun jelas ramai yang mengagak yang Fabregas telah pun mematahkan ataupun meretakkan tulang kaki kanannya.. Keputusan x ray hanya akan diketahu hari khamis (waktu London di mana ianya esok waktu Malaysia)..
"I fear the worse, which is that I have broken something.. I do not think it is going to be good news, but still I hope there will be.." Fabregas cukup keras kepala pada perlawanan awal pagi tadi dan minggu lepas selepas mahu meneruskan perlawanan..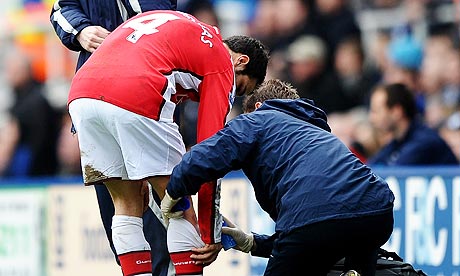 Cesc Fabregas terus meneruskan perlawanan semasa menentang Birmingham selepas ditackle keras Craig Gardner selepas menerima rawatan dari physio Arsenal, Colin Lewin.. Wenger mengakui dia cuba mengeluarkan Fabregas namun Fabregas menegaskan yang dia mahu kekal beraksi..
Sudah semestinya jika Fabregas terus memaksa kakinya ianya mungkin akan mendatangkan risiko dengan tahap kecederaannya lebih parah.. Selepas perlawanan staf perubatan Arsenal hanya mengesahkan kaki dan lutut kanan Fabregas hanya mengalami lebam.. Tapi ianya berubah semasa menentang Barcelona..
Kecederaannya bertambah teruk apabila jelas Fabregas jauh lebih sukar untuk bergerak kali ini sejurus selepas menjaringkan gol penyamaan buat Arsenal.. Dan dalam masa itu juga dia hampir sahaja menjaringkan gol kemenangan Arsenal..
Sudah pastinya fan Arsenal kagum dan terharu dengan komitmen yang ditunjukkan kapten pasukan ini.. Namun dalam masa yang sama juga pastinya fan takut jika Fabregas meretakkan atau mematahkan kaki kanannya..
Untuk rekod tulang kaki kanannya pernah retak hanya beberapa minggu selepas dia muncul sebagai kapten pasukan baru Arsenal.. Ianya merupakan satu mimpi ngeri untuk fan Arsenal jika ianya berlaku sekali lagi musim ini memandangkan ketiadaan Fabregas jelas akan teramat dirasai..
Atikah amat-amat berharap yang dia hanya akan berehat paling lama pun 2 minggu.. Apa-apa pun Get Well Soon Cesc Fabregas.. Adios!!