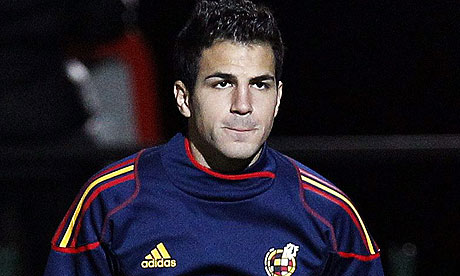 Cesc Fabregas akhirnya bersuara selepas Pique dan Puyol menyarungkan jersi Barcelona ke badannya semasa meraikan kejayaan Sepanyol memenangi Piala Dunia pertama dalam sejarah mereka di hadapan 200 ribu penonton di Madrid, Sepanyol.. Namun seperti biasa Fabregas masih mengunci mulutnya tentang masa depannya..
"I think now the less said about the subject much the better, because these things are worse for everyone when they come to light and people talk more about the matter.. Right now we have to be very calm and what will be will be.."
Fabregas juga memberikan komen tentang kejadian yang melukakan hati fans Arsenal dengan menegaskan jangan mengambil petunjuk tersebut sebagai petanda yang dia akan menyertai Barcelona..
"These are things that happen at special moments, and I don't think it should be gone on about much more because it was just another anecdote of a great night, a great celebration.. There are times we do not even know what we do, so everything can be forgiven.. Pepe (Reina) took me there (to the front of the stage) - the truth is that I didn't know anything like that was going to happen and so I was a bit surprised.. At first I thought it was a flag or something, but it's nothing.. You had to enjoy it and if it's a way to have fun, it's nothing.."