Spy Atikah melaporkan yang Wenger kini bukan sahaja bersedia membuat tawaran 10 juta pound untuk khidmat Metersacker, Wenger juga dilaporkan sedia bersedia membuat tawaran bernilai 5.5 juta pound untuk khidmat penjaga gol Cagliari yang telah disahkan Cagliari untuk di jual selepas pemain tersebut mahukan cabaran baru..
Sebelum ini Atikah ada laporkan yang presiden Cagliari telah memberitahu yang hanya Arsenal sahaja yang meluahkan minat mereka untuk mendapatkan Federico Marchetti.. Namun nampaknya Wenger bersedia mengambil langkah selanjutnya dengan akan cuba membeli Marchetti daripada Cagliari..
Namun jika benarlah Marchetti dibid Wenger dan Cagliari serta Marchetti menerima tawaran Arsenal, Atikah harap yang Marchetti mampu beraksi cemerlang memandangkan terdapat sedikit kerisauan untuk Atikah memandangkan pemain Itali tidaklah begitu cemerlang di pentas EPL.. Tapi Atikah harap penjaga gol tidak turut terkena sumpahan tersebut..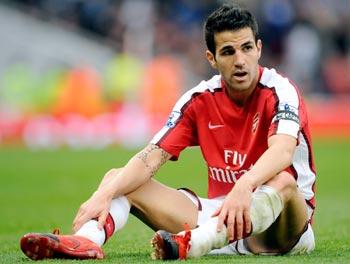 Arsene Wenger telah mengesahkan yang Fabregas akan kekal di Arsenal dan kapten pasukannya itu akan kembali menjalani latihan semula pada minggu depan pada 5 Ogos 2010.. Namun terdapat berita yang mengatakan yang Fabregas mungkin akan berdepan tugas sukar kembali dengan kemungkinan layanan fans Arsenal akan berbeza terhadapnya..
Atikah rasa ianya tidak benar sekali.. Bagi Atikah, fans Arsenal yang mana waras dan tidak mudah diperdayakan, akan tahu yang Fabregas langsung tidak bersalah dalam hal ini.. Media (media sepanyol terutamanya) dan pihak Barcelona yang patut dipersalahkan dalam hal ini.. Kerana mereka jelas mahu membuat fans Arsenal membenci hero dan Arsenal lagend to be ini..
Atikah rasa Fabregas akan terus membuktikan komitemnnya terhadap Arsenal di atas padang nanti.. Atikah yakin yang Fabregas akan bersungguh-sungguh memujuk Wenger untuk memastikan dia beraksi menentang Liverpool nanti selepas Wenger sedang memikirkan merehatkan beliau serta Van Persie..
Tapi walau apa-apa pun in Fabregas we trust.. He always be our hero and nothing can change that.. Harap-harap Fabregas akan jadi lebih baik selepas ini dan memacu Arsenal ke puncak dunia.. Dan memastikan beliau menewaskan Henry sebagai lagenda kesayangan fans Arsenal dan memastikan gelaran kapten Jack Sparrow/kapten inspirasi untuk Arsenal/kapten fobulos kekal miliknya.. Adios!!