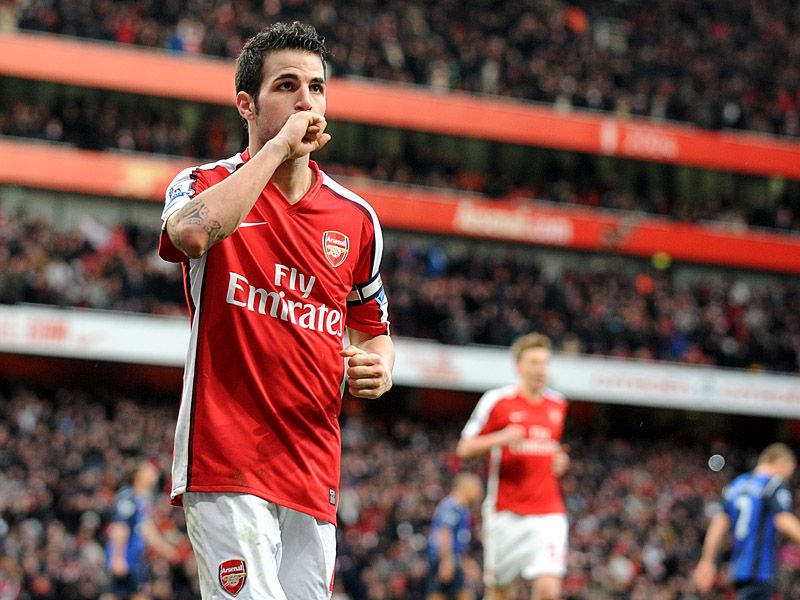 Segelintir fans Arsenal telah mengkritik persembahan yang ditampilkan kapten pasukan, Cesc Fabregas dengan menganggap hati beliau tidak lagi bersama Arsenal walaupun Fabregas telah menegaskan yang dia cukup sayangkan Arsenal walaupun beliau berhasrat untuk kembali ke kampung halamannya sebelum ini..
Arsene Wenger tampil mempertahankan kapten pasukannya ini dengan menegaskan yang Fabregas mungkin akan kembali bersedia minggu depan selepas menegaskan yang Fabregas masih belum cukup cergas untuk menunjukkan aksi memikatnya sepanjang musim lepas ke musim ini..
"He will be the player he was before without any problem and he will be stronger.. And of course I think he will, once he is fit again, be involved mentally in the team.. He is our leader, he is the leader of our team and he has a massive responsibility.. I am convinced he will stand up for it.." Wenger juga menegaskan yang Fabregas langsung tidak tahu yang beliau akan dikeluarkan selepas 68 minit beraksi..
"Cesc loves to play and that is why I did not tell him he could come off before the game.. He did not know he would come off.. He had not played since the World Cup Final.. That was on July 11 and we are now the end of August.. It is difficult and he should be ready for the next game.." Wenger juga yakin yang Fabregas sama sekali tidak akan kecewa dengan keputusan Arsenal tidak melepaskannya..
"I believe Cesc has given a lot to the Club and the Club has given a lot to Cesc as well.. I believe personally he loves Arsenal and that is why he accepted our decision.. There is a trust and confidence [between us].. Every case is individual but to have players happy you need the club and the player to be happy.. Of course when a player wants to go somewhere else for a while he is not happy but it is very difficult to legislate on that.."
"And, when you transfer a player, you need the agreement of the three parties.. That is why player power exists and is legitimate.. But the club has its word to say as well.. It was vital for us to keep Cesc because we build a team around him.. But I believe as well the players we have brought in have shown that they can adapt very quickly - Koscielny, Chamakh and now Squillaci.. So overall I believe we have done very well.."
Bagi Atikah berikanlah masa untuk Fabregas cergas sepenuhnya sebelum menunjukkan kembali ciri-ciri kempipimpinan yang pernah ditunjukkan musim lepas.. Bagi Atikah alasan Fabregas tidak lagi cintakan Arsenal adalah mengarut dan tidak boleh di guna pakai langsung.. First game Fabregas masa lawan Blackpool, beliau cemerlang..
First game lawan Blackburn beliau cukup cemerlang walaupun first touch dia agak mengecewakan.. Namun dari segi passing dan rembatan, ianya masih belum pudar.. Dan adakah sebab dia gagal beraksi sebaik musim lepas untuk lebih dari 45 minit untuk Arsenal membawa maksud beliau tidak lagi sayangkan Arsenal?? Tidak..
Fabregas masih keletihan.. Malahan Van Persie pun bergelut sehinggalah perlawanan ketiganya semasa menentang Blackburn yang menyaksikan beliau dilihat kembali berada di prestasi terbaiknya sehinggalah beliau kembali cedera.. Bagi Atikah berikan Fabregas masa.. Beliau masih keletihan dari aksi Piala Dunia yang cemerlang namun mengecewakan untuknya..
Atikah yakin bulan September ini, Fabregas akan bersedia sepenuhnya untuk kembali menjadi Fabregas yang kita lihat musim lepas ataupun lebih hebat lagi.. Wenger sendiri menegaskan yang RVP dan Fabregas tidak akan berada di prestasi terbaiknya sehingga September.. Jadi apa kata kita tunggu sampai September tamat untuk lihat sama ada Fabregas mampu menjadi seperti dulu atau sebaliknya..
Lagipun semasa perlawanan menentang Blackburn tempoh hari, Fabregas dilihat mengalami kecederaan di mana beliau bergelut sedikit.. Mungkin itu telah menjejaskan tempo baiknya sebelum kecederaan tersebut.. Walaupun Fabregas tidak mengadu kepada Colin Lewin (physio Arsenal) mahupun Gary O'Driscoll (doktor pasukan).. Ianya tidak bermakna beliau tidak mengalami kecederaan..
Tayangan video telah menjelaskannya.. Atikah tidak pasti minit ke berapa, namun siapa yang tengok live di astro mungkin perasan si pengulas bercerita pasal itu sebelum kamera merakamkan ketidak enakan Fabregas semasa berlari.. Namun ianya mungkin tidak serius, namun Fabregas tidak akan sama sekali mampu beraksi cemerlang jika mengalami kecederaan..
Cuma semangatnya sahaja yang mampu membuatkan Arsenal tidak merasai sangat yang Fabregas sebenarnya cedera.. Kerana Fabregas ialah perwira sebenar Arsenal.. Dia tidak akan menunjukkannya walaupun ianya mampu mempengaruhi persembahannya.. Namun atas disebabkan Arsenal, beliau sanggup main walaupun kakinya retak sekali pun..
Jadi Atikah rasa kita patut berikan peluang untuk Fabregas.. Kita perlu ingat yang Blackburn main ganas.. So mungkin Fabregas ada dikasari pemain Blackburn yang main bola sepak macam main ragbi.. Jadi ianya menganggu sedikit tempo permainan Fabregas.. Kita patut terus percayakan pada Fabregas.. Fabregas bukannya Adebayor si pengkhianat itu, Fabregas masih Fabregas yang kita kenal selama ini.. Adios and keep your trust to Fabregas!!